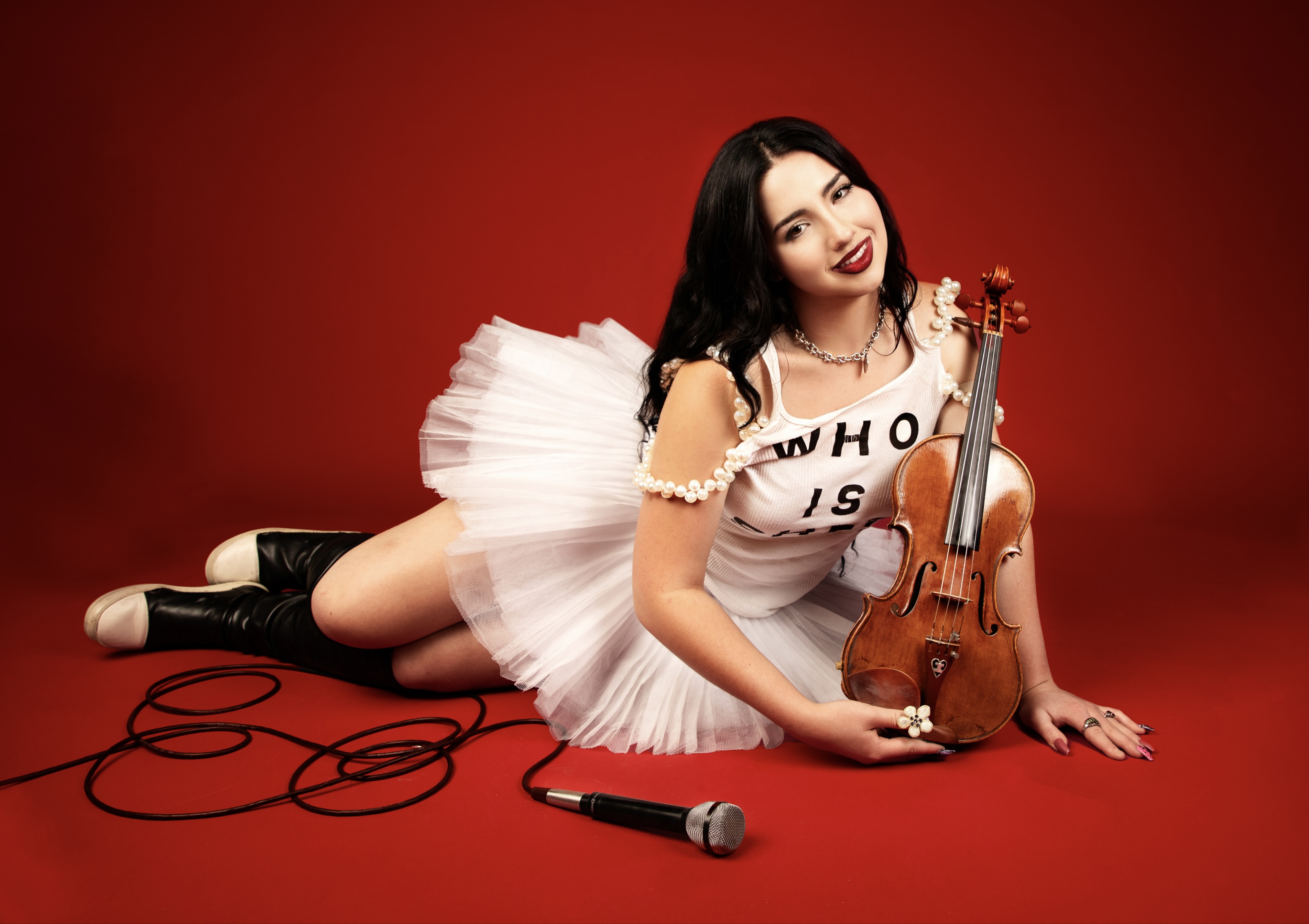 WHO IS SHE?
The ascendant singer, songwriter, violinist, and burgeoning
fashion designer is starting to make a name for herself in numerous disciplines as a star on the rise. As musical genres merge, and the confines of conformity vanish into cyberspace, this is where Isolde Fair comfortably resides, ready for any and all challenges on the road to artistic success. With pop vocal appeal and conservatory bred- chops, Isolde Fair is truly an original artist blessed with an alluring voice, heartfelt songs, with fiery violin accoutrements on the ready!
Isolde states, "Growing up, I listened to so many various artists including Mozart, Lady Gaga, The Black Eye Peas, Imogen Heap, The Who, Queen, The Beastie Boys, Mary J Blige, Aretha Franklin, Dolly Parton, Beethoven, Carol King, Eva Cassidy,
Shostakovich, Ennio Morricone, The Lumineers, Harry Gregson-Williams, Starr Parodi. This list could go on for hours. Being able to be surrounded by all this incredible music has
given me a sense of belonging in this world. All of them have inspired me and my music so much."
Isolde was Initially drawn to music studying violin within the classical music repertoire context.
By the age of 13, Isolde had already sang and performed for 3,000 people at Lincoln Center in NYC for a song she co-wrote, "To All the Little Girls."
The song was inspired by Hilary Clinton's concession speech after the 2016 presidential election. The concept for, "To All the Little Girls" came about as a music theory assignment. Right before the Women's March on Washington DC in January 2017, Isolde decided to record the song and also shot a music video performing with her classmates.
On the day of the Women's March, Isolde decided to post it on her social media. A few weeks later, Hilary Clinton tweeted it to her 13 million followers. A viral social media storm soon ensued, one of many forays into the spotlight to follow Isolde in short order.
Seemingly overnight, articles about Isolde Fair were posted in the global press and across social media platforms.
PopSugar
stated that the song was, "damn near perfect."
The Daily Mail
added, "talented 13 year-old singer turned Hilary's concession speech into a girl power anthem." Many other prized media outlets including, the
New York Times
, Huffington Post, and
Cosmopolitan
soon followed, all championing Isolde and her music.
When Isolde was 14 years old, she composed another song , "Rise Until We Stand."
Two years later Isolde returned to Lincoln Center and performed the song for 2,000 people with the Moderna Orchestra, conducted by Amy Anderson. Amy Anderson subsequently produced an album and included Isolde's song, "Rise Until we Stand."
Upon the release of the album in 2021 it was nominated for a Grammy Award in the "Best Classical Compendium" category. A few months later the recording won a Grammy Award! At the age of 16 Isolde became a Grammy
Award winning artist. A weeks later, right before Isolde graduated high school, BMI wanted to
honored the Album, and Isolde's song, "Rise Until
We Stand" with their prestigious Impact award.
During Isolde's junior year of high school, Isolde auditioned to perform violin the American Youth Symphony (AYS).
She passed the audition and became the youngest violinist in the AYS. Isolde performed at the Academy Museum for the opening of the Geffen Theater, where she performed the whole score to the Wizard of Oz. Isolde also performed the whole score of
How to Train Your Dragon
score live to picture. A couple of months later, Isolde performed at Disney Hall With AYS where they played various pieces of works by different composers. Isolde also got contracted to be filmed on a Super Bowl Taco Bell commercial in 2021.
After winning the Grammy Award win in 2022, Isolde was invited back to the 2023 Grammy Awards and created quite a stir on the red carpet. Wearing a corset top designed by Isolde and her friend Campbelle Searcy which included intricate hand paintings and sewing all the fabrics together. Moments later, a video of Isolde on the red carpet went viral on TikTok with comments of, "Who Is She?" gaining millions of views and interest in the fashionable and talented young woman.


Isolde stated, "people always ask me if I like playing the violin or piano more. I say both….I could never not play one or the other. People also ask me if I like making pop music or playing classical music more. I give them the same answer, and say both because they bring joy into my life. I would physically die if I didn't have music in my environment. I seriously don't know what I would do without it."


Isolde is currently working on a few projects at the moment. She is about to release her debut independent single, "Strip Away," that she composed and co-produced.
"Strip Away"
incorporates pop and classical instruments creating a
melodic and vibey atmosphere that makes you want to dance and feel alive!
So stay tuned in and pay attention to what you see and what you hear—that new sound and look may just be Isolde Fair saying hello and beckoning you to come along for the ride!